Diesel With Foscarini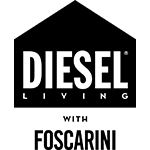 Læs mere om Diesel With Foscarini

Diesel With Foscarini is a collaboration between the successful Italian lighting brand, Foscarini, and the famous fashion brand, Diesel. This collection appeals to so many different expressions – from rock and pop, industrial design and vintage to graphics and art – to illustrate the characteristic Diesel lifestyle. The ironic, transboundary, electric, glowing collection consists of many different lamp models. The series of strong personality is created in different shapes, materials, and applications, which makes it possible to distinguish unconventional surroundings from homely and public environments. The greatest importance and meaning behind the Diesel With Foscarini collection were the selection of materials. The selected materials have not been used in the lighting industry before, and that became the greatest value of this lighting collection.

Visit Diesel With Foscarini for more inspiration here.
Popular lamps from Diesel With Foscarini
The lamps of the Rock series are by far the most popular series from Diesel With Foscarini. Outwardly, the design is raw and rough, but the inside of the lamps is polished and nice. The light is reflected like the light in a crystal, which gives an unforgettable effect. The contrast between the outer and the inner and the memorable brightness is what makes the Rock series unique. The Fork series has a more calm and cool look. The lamp shade is made in textile and makes the light soft and lovely. With a vintage look and the possibility of rotating the shade 360 degress, this lamp will fit into any style and home – all times at the day.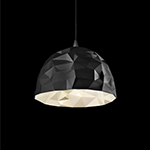 Diesel With Foscarini's creative design team
At Diesel With Foscarini, they have established a creative team that works together to bring Diesel into their interior. They create design with an innovative, young, and fresh look. Dennis Askins is Creative Director at Diesel Interior, and has a vision of implementing the history of Diesel in every design – not only fashion pieces. That counts for the entire lifestyle collection and all pieces like cars, motorcycles, watches, perfumes, etc. Diesel is casual luxury in high quality materials. The unique materials of the lighting collection is a reference to the types of fabrics Diesel uses in their fashion designs, such as washed leather and denim.


The history behind Diesel With Foscarini
In 2009 started Foscarini their collaboration with Diesel as part of their "Home Collection". This exciting partnership gives Foscarini the opportunity to work towards new goals and new lifestyle and furniture trends through Diesels collection, "Diesel living with Foscarini". You will find many different looks – from rock to pop, casual coolness to vintage, and graphics to art. The Diesel Lifestyle is fun, passionate and creative, and now also an entire new way to decorate your home: Diesel Living by Foscarini.