Jake Dyson
Read more about Jake Dyson
Jake Dyson is behind some of the most innovative and environmentally friendly lamps to date. The lamp series is called CSYS and contains a floor lamp and a table lamp where the table lamp is available with a normal base or a clip function. The CSYS series is based on a new hot-pipe technology that ensures a durable and top-quality LED experience. The technology ensures 160,000 hours of LED light which is equivalent to more than 37 years' consumption with the lamp switched on for 12 hours a day. Moreover, this new LED technology guarantees the conservation of the warm colour, brightness and clear light that we're used to from incandescent lightbulbs. Finally, the CSYS lamps have an incredible functionality that ensures optimal maneuverability horizontally and vertically and a 360 degree rotation.
Find more inspiration for the Jack Dyson lamps on their official website.
Popular lamps from Jake Dyson
With their ground-breaking technology, Jake Dyson has managed to create some very special lamps that are brilliant as either desk lamps or reading lights. The Jake Dyson CSYS series is available as a table lamp and floor lamp in three different colours: black/silver, red/silver and white/silver. The Jake Dyson CSYS series has an estimated lifespan of up to 37 years due to the hot-pipe technology combined with an electronic system. Jake Dyson CSYS provides a fantastically bright, warm and white light.
Jake Dyson and his design
Jake Dyson's lamp brand was created in 2004 in a small part of London called Clerkenwell. The brand was iconically brought to life in an old Victorian building that had previously been used for electrical and mechanical engineering. Jake Dyson is incredibly passionate about his work with lamps and is especially fascinated by the way parts and components work optimally. He is inspired by mechanisms, innovation and technology, he wants to make the various parts and components work. Furthermore, Jake Dyson believes that the most important thing when creating the perfect lamp is understanding the production process: he wants to make the optimal design and as innovative a lamp as possible. Jake Dyson created the CSYS series in the years 2011-2014.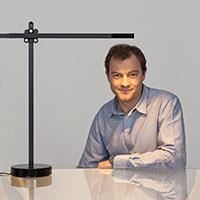 The story behind Jake Dyson
Jake Dyson was found in 2004 of the son of world-famous James Dyson, Jake Dyson. Jake Dyson is an incredibly intelligent designer which is evident in the CSYS lamp series. The CSYS lamp series is based on a very special technology that is developed by Jake Dyson himself. Today, the lamp brand has undergone a transformation from the masterpiece of the son to being part of the large Dyson group. We are therefore excited to see what lamps Jake Dyson will create in the future.