4.7/5.0 stars
+2400 reviews
+10 000 high-end designs
365 days return rights
Pricematch on all your products
Official retailer of +100 designer brands
Read more about Frederik Bagger
Frederik Bagger is the son of worldfamous designer Erik Bagger, known for several iconic designs throughout the years. Following his father's footsteps, Frederik Bagger always got support for his creative thinking. Frederik Bagger was taught everything his father knew about Danish design and aesthetics, sustainable materials and good craftmanship. This is the foundation for the high quality in all of Frederik Bagger's designs that rank amongst the most recognised designer brands in Scandinavia.

Frederik Bagger has always immersed himself in crystal glass and interior and has now moved in to new water withs a lamp series. The new lamps from Frederik Bagger have a raw and rustic look with a touch of modern industrial design. Frederik Bagger's new exciting project has already raised attention in large parts of Scandinavia and it certainly won't be the last thing we see from him.

The beautiful and popular lamps from Frederik Bagger
The beautiful and so far only lamps from Frederik Bagger's collection are the Air series where the goal has been to find beauty in simplicity and humility. The Air series is everything Frederik Bagger stands for: raw focused, rustic, uniquw and modern. With all these qualities, one can only create an exceptional lamp series. With ultimate craftmanship and leight-weight aluminium of the highest quality, Bagger strives to reach his always high standards. The lamps are only available in black and as a table lamp or pendant.

Frederik Bagger as a designer
When Frederik Bagger established his company in 2015, he wanted to put his touch on the industry with something completely new. Bagger believed that the industry needed something new and fresh. New inspiration. More provocation. Something attractive. But most importantly, somethings unique that challenges perfection. These values are what Frederik Bagger's universe is built upon. As a single designer he has done incredibly well internationally and in Scandinavia. Furthermore, Bagger has been green from the start and uses only reusable packaging.

Frederik Bagger - A design brand in development
The recognised business Frederik Bagger started way back in Frederik's childhood where he would sit with his father and draw his first ideas. Since then, it's been going fast. As the son of a good designer, he had a lot to live up to but he has not disappointed.
Frederik Bagger launched hos first products online in 2014 and after only two weeks, he had more than 300 preorders. So he took the initiative and started his own company. In 2015 he debuted with his first exhibition. A month after the exhibition, the products were launched in the first stores. Today the company keeps growing bigger and bigger and Frederik Bagger has made a name for himself in the design business.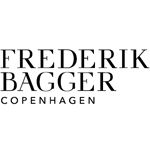 Frederik Bagger